2018 Patio Design Trends
Building a patio is arguably one of the most popular outdoor projects, probably because you are in effect creating an entirely new living space with an unlimited design potential. The most important thing about designing a patio is to plan for the quantity and type of furniture you wish to place on the patio. A dining table for eight takes up more space than a dining table for four. A group of "deep seating" type furniture will need extra space as well. In designing the outdoor living area the sky is the limit, with features available like kitchens, shade structures, LED lighting, spas, fire features and furniture. The team at Burkholder Landscape can guide you through the latest trends in landscape and patio design to help you plan your perfect outdoor getaway.
Five Top Trends in Patio Design and Features:
Flooring
Flooring in 2018 offers many options, and homeowners are deciding that they can choose more than one! Material combinations are hot this year, such as this mix of several colors of gravel, three different sizes of river stone, large irregular stone slabs and bluestone super-tread steps.
For this project, the gravel and stones were bonded to prevent movement of the gravel, creating a rigid floor. Other paving material combinations might include wood and stone, stone and brick (above), or even stained and/or stamped concrete alongside brick or stone.
Shading
Every patio should have a covered or shaded area for relief from the hot summer sun. Today's homeowners have more options than ever. A pergola or pavilion offers classic and timeless appeal, and shade sails can add a colorful flair with added UV protection.
Pergolas come in any size desirable, and some residents like multiple pergolas to cover various spots, such as a seating area or a grilling station.
Less permanent options are available such as blinds or umbrellas, which allow homeowners to easily move their shade or update colors more often.
Outdoor Kitchens
The ability to cook outdoors is a staple of entertaining outdoors. You want to be with your guests while everyone enjoys the smell of the delicious meal being prepared. Outdoor kitchen configurations can be modest or extremely elaborate, especially if the outdoor space will be used often. Homeowners are bringing everything available inside to the outside, right down to the ice maker and wine cabinet. All the conveniences of an indoor kitchen on the outside make an outdoor space a true extension of your indoor space.
Ceramic grills are a popular trend this year. These grills offer the ability to cook food at higher temperatures to sear meats to lock in the juices, and then finish cooking at suitably lower and slower temperatures to develop flavor. You can also use a ceramic grill as an oven, which is great for treats like outdoor pizza or grilled shortcake!
Kitchen islands are also trending patio design features. They provide needed storage and prep areas, as well as a place to gather as the meal is prepared. With the addition of counter seating the outdoor kitchen becomes a place for everyone to dine as meal preparation is completed.
Fire Features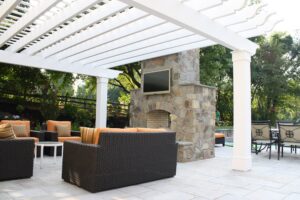 Everyone loves to gather around a cozy fire, whether the temperatures are hot or cold. Firepits and fireplaces can be built in a multitude of designs and shapes, with stone or brick. An enormous trend in the design and build of fire features is the ability to connect to the propane or natural gas system of the home versus traditional wood fired elements. Each of these features encourage family and guests to gather together, talk, laugh, toast marshmallows and more. For families who prefer, today's fire tables offer just as much warmth and style with a faster set-up. These serve as great options for outdoor living spaces where space and budget might be a significant factor.
Outdoor Patio Furniture
Patio furniture can make all the difference in the enjoyment of your outdoor space. The most amazing patio design in the world will seem unappealing if homeowners and guests are unable to get comfortable in the space. The focus in 2018 is on high quality outdoor furniture with an array of colorful fabrics.
Advances in woven wicker and aluminum framing as well as poly lumber (made from recycled milk cartons) require less maintenance without forsaking style or comfort. New fabric technology allows more soil and UV resistant color and pattern choices than ever for the outdoors. A consumer may be hard-pressed to tell the difference between indoor and outdoor furnishings! Homeowners have so many options with seating arrangements that are circular, square, or linear to meet all entertaining needs, as well as an array of styles from modern to transitional to classic.
Visit the Burkholder Outdoor Living & Design Center to see an abundance of options within their showrooms and outdoor display gardens. Let one of the Outdoor Living Associates show you as many of the options for a patio or for outdoor furniture as you would like to see. They will assist you in gaining a better idea of the outdoor living room answering to both your needs and dreams or for a fabulous upgrade to an existing patio!
Burkholder Provides Stunning Patio Design and Installation
With so many patio design options available, homeowners can find themselves at a loss in deciding what will work best for their own space and budget. Burkholder Landscapes' Design Experts work closely with clients through a proven design process to arrive at concepts suited to their needs, their sense of style and to their home. Designers then guide their clients through options of various paving and hardscape materials, options on built structures such as pergolas or pavilions, and selecting the right outdoor kitchen or fire options as may be requested. We offer a range of options which maximize on style and detail while respecting the project budget. Contact us today for a consultation!