Homeowners who are excited about big outdoor improvements like built-in barbecues, outdoor fireplaces or fire pits, pollinator gardens or a swimming pool, should be sure to consider incorporating custom walkways. Walkways add value and function to any outdoor space, with an added benefit of highlighting specific elements of your landscape or architecture.
The Benefits of Custom Walkways
Custom walkways, when done right, go well beyond providing occupants with the obvious benefit of connecting point A to point B. They also offer:
Unified Space
Paved walkways give yards a cohesive, tied together appearance. For example, by using natural stone as the flooring material around an outdoor barbecue area and in the walkway leading to that area, you create a sense of cohesiveness in your landscape. The end result is a gorgeous unified property.
Curb Appeal
A well-built custom walkway comprised of stone, pavers, bricks, or similar materials improves the safety of a given route through your yard and landscaping. They even out a rough or steep terrain and provide a smooth path that is easy to traverse. If you have guests, walkways can ensure that they know where to go, will get there without tripping, and will be able to avoid walking on delicate areas of your lawn or damaging planting areas.
Safety
The aforementioned cohesiveness also enhances a property's curb appeal. Walkways should afford a sense of order, welcome and refinement. They allow an the entrance to a home to be both inviting and an extension of the home and its architecture. Improved curb appeal is great for a homeowner's daily enjoyment, who wouldn't enjoy having the most attractive home on the block? When the time comes to consider selling the same strong sense of curb appeal can create an immediate and positive response from interested buyers as well as a boost in property value.
Where to Install Custom Walkways On Your Property
Custom walkways can be installed just about anywhere on your property. We have experience installing unique custom walkways in…
Front yards to connect front doors with driveways, garages, mailboxes, and garden areas
Backyards to connect entertaining areas
Between gardens
Leading to and around points of interest like fountains and grilling stations
Around pool or spa areas to improve safety and make these features easier to access
Choosing the Right Materials for Your Custom Walkway
To make the most of custom walkways, they should be comprised of quality materials. Homeowners have many choices when building walkways, and some choices are better for specific uses. Some of the materials we recommend for custom walkways include:
Natural Flagstone
Techo-Bloc concrete pavers
Brick
Edging with distinctly different color or shaped blocks or bricks is a great way for owners to add distinctive styling to their custom walkways. Edging choices can make walkways stand out, or allow them to be more subtly and smoothly integrated into the landscape's other materials.
The images below offer excellent examples of what can be done with custom walkways.
Natural stone, or flagstone, is another great choice as this material adds a luxurious touch. The look can be rustic or refined, depending on the type and finish, to suit a homeowner's taste. Some natural stone has anti-slip characteristics and some varieties resist heating, even in warm weather.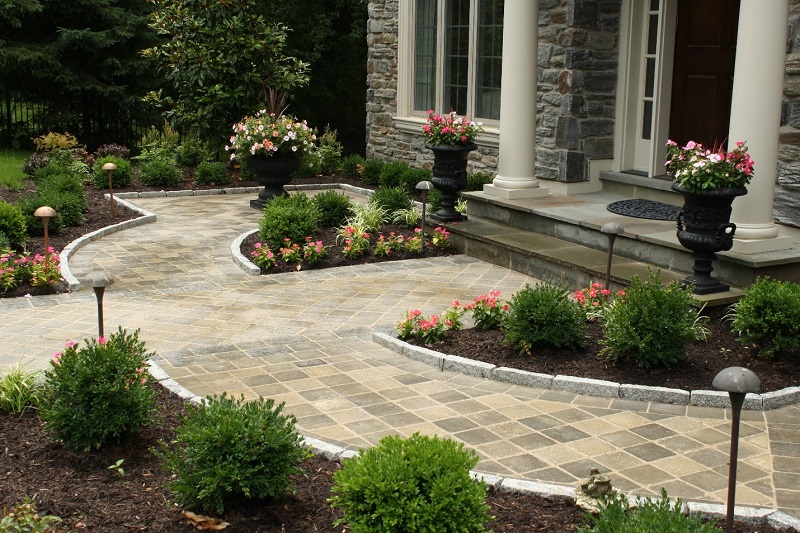 We often use Techo-Bloc as a high-quality, durable and attractive option that offers a high degree of customization in paver size and selection, paving pattern, and accent colors to act as highlights within a pattern. It is also easy to maintain. Techo-Bloc pavers are made using quality ingredients in a consistent process that produces uniform, durable pavers in a variety of colors, shapes and textures.
Brick is always a popular choice, both for walkways and edging. Brick is also available in many colors and sizes to fit whatever area homeowners choose.
Contact Burkholder to Begin Designing Your Custom Walkway
Whatever your desired look, Burkholder's expert designers will give you the options that will help you achieve it. Burkholder Brothers has been helping Main Line area homeowners create their dream landscapes for over 20 years. Contact us today to get started on yours!
Walkway Portfolio