Get Your Ideal Landscape with the Best in Landscape Design Companies
You may find yourself wondering, "How can I choose from the landscape design companies near me?" If you live near the Main Line in Philadelphia, you are in luck because you have one of the best in Burkholder Landscape! At Burkholder, we don't just specialize in landscaping and hardscaping. We have a highly skilled team of certified experts with the experience and knowledge to accommodate all of our clients' hopes and dreams for that perfect outdoor living space. Our group of talented designers, carpenters, masons, electricians, horticulturists and contractors use the highest quality standards and industry approved techniques to ensure that the projects are completed properly.
Our award-winning design team will bring to life the vision you aspire to while giving the utmost attention to your existing conditions, personal taste and budget. We believe a well designed and installed landscape will make your house a home, and will also increase the value of your property. Whether you are starting a landscape venture from the beginning or enhancing an existing outdoor living space, our job is to provide each and every client with the highest quality materials and workmanship available to ensure that your project exceeds your expectations.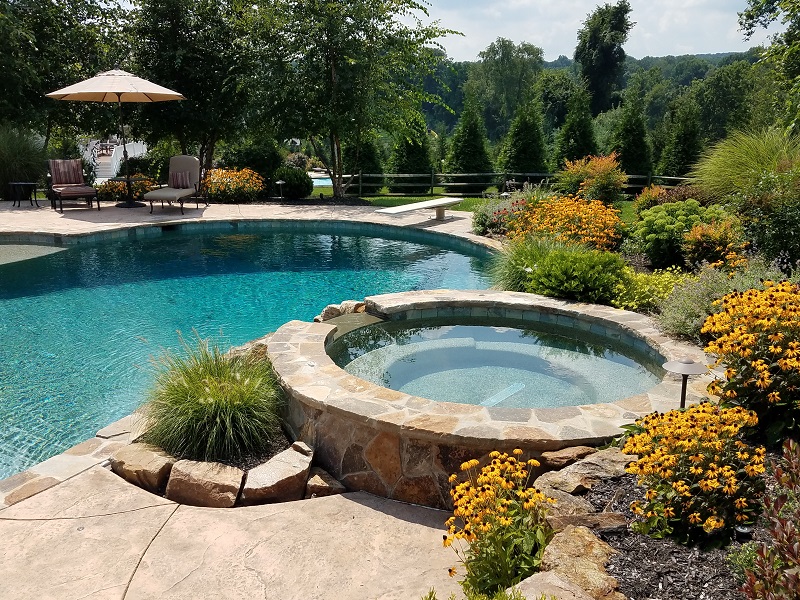 At Burkholder, you can rest assured that our design-build staff is up to date with the latest knowledge of landscape material on the market, the newest and hottest trends in outdoor living, and the most cutting-edge styles. Our landscape design company can add simple enhancements to your existing patio and landscape, like a beautiful new structure such as a pergola or pavilion, an outdoor dining set, or an outdoor sectional, so that your outdoor living space will come alive again for tons of enjoyment all year long. Some other homeowners may want to refresh their backyards with new plant material or landscape lighting, which will add elegant details to create a serene ambiance that illuminates and accentuates your existing space.
Once your perfect design leaves the table, our highly skilled installation crews are ready to bring your vision to life. Our staff is certified in the most up to date installation processes and well-versed in the industries' latest standards so they can provide our clients with the most beautifully crafted patios and picturesque gardens, as well as resolve the most demanding of landscape challenges. Big or small, we believe that with the right team you can always add to, improve and enhance your landscape to create a brand new outdoor living area to love through every season.
Design-Build Services By the Best Landscape Design Companies Include:
Outdoor Living & Design Center
Our design center showroom allows you to walk our gardens and see features, materials and plant samples in real finished settings. You can see the quality of our outdoor patio furniture and envision how it will look in your own backyard oasis. In addition, designers are available so that you can ask questions.
Trust Burkholder When you are Looking for the Best in Landscape Design Companies
Burkholder is your one-stop place for all of your landscaping design needs. If you are looking for landscaping design companies near you in one of the Main Line or surrounding communities, contact Burkholder today for a consultation to learn what we can offer!