Patio Renovation
Patios form the hub of outdoor entertaining, so many homeowners evaluate the condition of their patios every year to determine if renovations are needed. For lots of us, warm weather makes outdoor living spaces more desirable. As many wish for their summers to be colored with outdoor activities, patios offer a natural space for relaxation and entertainment. The decision to renovate a patio space is a common home improvement project. Patios come in many shapes and sizes, so there are countless ways to upgrade your space without breaking the bank. Featured below are some options that constitute types of patio renovations:
Patio Furniture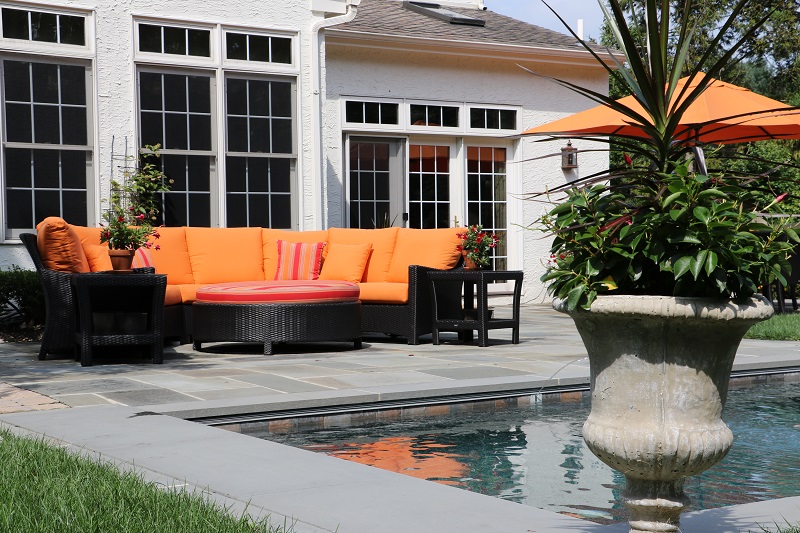 Essential to any great patio space is a cohesive furniture configuration. To avoid a patio becoming a catch-all space for mismatching knick-knacks, choosing a color palette is recommended to maintain a unified feel. Such a look can often be achieved without extensive effort: often, the simple act of rearranging and updating furniture can transform the look and feel of the patio. Whether a homeowner chooses to purchase built-in seating or simply add a few chairs, a change in patio furniture— and its corresponding accent pieces, such as cushions and ottomans— is common to many patio renovations.
Building and Resurfacing
The first thing to consider when thinking about a patio is the basic foundation, style or material type. Do you prefer concrete, natural stone, brick, pea gravel or aggregate, flagstone, pavers or other materials? The decision to use one material over the other will be determined by personal preference, the location of your patio, your budget, and the size of your outdoor space, plus the availability of materials in your area. Next will be the shape and size of your patio. If you already have a patio footprint but are looking to get a facelift, then starting with the materials is a smart move.
The next step to creating the patio of your dreams will require finding the right professional to work with. When you hire a professional to design and build your patio they will assume the job of contacting the local building department to find out what the building codes, zoning and setbacks from the property lines are in your town. The professional will contact the town before finalizing plans for your patio. Each town has its own codes and some may have no requirement of a building permit for patio construction.

Outdoor Kitchens
For those who enjoy using their patios for entertainment, choosing to get an outdoor kitchen installed is often a practical and encouraged renovation option. The ability to cook outdoors while simultaneously entertaining guests is an attractive choice for the seasoned entertainer or the Dad who wants to be able to see the kids playing outside while he is cooking. Outdoor kitchens provide worthwhile benefits to those seeking to upgrade their patios, and are often seen in renovated spaces.

Fire Features
While the summer months certainly bring warmth, the nights can tend to cool down. Incidentally, homeowners often enjoy gathering around a fire to watch a movie or to enjoy s'mores. Installing a fireplace (or even a fire table) is another common renovation choice for people who wish to improve their patios. Being firesides encourages community bonding, and fire features serve as aesthetically pleasing backdrops for your outdoor living space.
Covering Options
Another choice that is common to patio renovations is the implementation of some type of covering option. For example, umbrellas are popular choices, as they both provide shade and protection from rainfall. When choosing an umbrella, however, the correct size must be chosen. To ensure that the umbrella is a proper size for a space, table and seating dimensions should be recorded beforehand to guarantee that the seats will remain covered. Picking an umbrella that complements the established patio style is recommended as well.
Another covering option is a removable canopy. These are typically attached to trees or other structures in the yard, and are often utilized to block out sun during the hotter months. They provide protection, yet are moveable— allowing for versatility in the way your yard looks.
A very popular covered patio renovation choice is a pergola or pavilion. Pergolas provide semi- shaded coverings that can be accented with plants or canopies. Patio pavilions provide maximum protection from the elements, as they are freestanding and sturdy structures. They are also inviting, and create a warm, room-like atmosphere to an outdoor space. Pavilions can be equipped with overhead fans, electrical outlets, and even outdoor televisions!
Burkholder Specializes in Patio Renovation and Design
When considering a patio renovation, you have many options to choose from— all varying in functionality. Patio renovations can be as simple or elaborate as you wish, and as your budget allows. If you are considering a patio renovation, please contact Burkholder today for a consultation. We would love to hear from you!
Natural Cleft Full Color Flagstone Patio
Techo-Bloc Antika Patio (Natural Cleft Full Color Flagstone Patio around pool deck)
Techo-Bloc Blu 60 Patio with Techo-Bloc Flagstone Paver around firepit
Natural Cleft Full Color Flagstone Patio with Clay Brick Detail
Techo-Bloc Blu 60 Patio in lawn
Natural Cleft Full Color Flagstone Patio with carpet detail of Tan Flagstone Squares and Plum Flagstone details
Clay Brick Herringbone Pattern Patio
Natural Cleft Full Color Flagstone Patio
Techo-Bloc Paver Patio with triple band detailing
Paver Patio in random pattern
Large Thermal Cut Flagstone Slabs in Lawn
Irregular Natural Brown Stone Patio
Antika Pervious Paver Patio
Natural Cleft Full Color Flagstone Patio with Clay Brick Detail