Fireplaces & Fire Pits
An Outdoor Fire Pit or Fire Table Will Enhance Any Outdoor Space
On a crisp cool autumn night, or even a chill winter night, gathering around a crackling fire is a perfect way to spend the time. Summer evening conversations with friends or roasting marshmallows with the kids can be great times around a fire as well. Fortunately, today's outdoor fire pits, fire tables and fireplaces allow us to enjoy those experiences in our own backyard. These features can be enjoyed year round, with their built in ambiance and absolute functionality. Burkholder offers many options for either custom-built outdoor fireplaces and fire pits, or more portable fire tables. Each option offers quite a few feature choices.
What are the Considerations for Outdoor Fireplaces, Fire Tables, and Fire Pits?
All three are great ways to integrate a fire feature into an existing outdoor space. Since they can all be wood burning or gas powered, the choice is often about personal preference, size limitations and cost.
Cost
Typically, fire tables, manufactured and transportable fire features, can be acquired for a lower cost than custom built outdoor fireplaces and fire pits. Also, the many style options and portability make them a very popular choice for homeowners. Ratana and Castelle, leaders in the outdoor living industry for over 30 years, supply Burkholder with stylish and high quality fire tables that Main Line residents love.
Custom built fire pits and fireplaces may cost more, but they are more sturdy, permanent additions to your outdoor living space. They are also available in heavier materials, such as stone, concrete or brick, often lending a more rustic fireside experience.
Fire Pit or Fire Table Size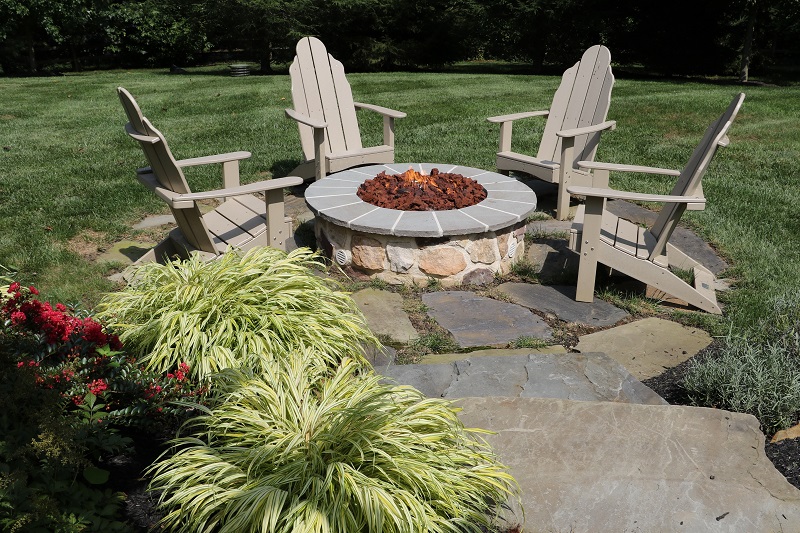 Fire tables and fire pits can vary in size, although the customizable nature of built in outdoor fire pits allows for larger sizes if desired. Your backyard space and your budget are the only limiting factors. The sizes of fire tables, since they are portable, are a little more limited. In Ratana's line, for example, the largest round fire table is 54" in diameter and Castelle's large rectangular fire table is 64" x 96". These are great sizes, allowing for a cozy round table with a few chairs, or a larger table that can be accompanied by a couch or chairs for comfortable enjoyment of the warmth and ambiance of the flames.
Convenience and Access
Seating
Outdoor fire pits and fire tables both allow guests to sit on all sides, whereas a fireplace only allows seating at the front. For larger groups, a large round custom fire pit is the perfect way for everyone to face each other for conversation, and stay warm at the same time. Circular benches can be built in the same material as the fire pit, like stone or brick, or individual outdoor chairs can be purchased to assemble around the fire. Benches or chairs provide easy access to a fireplace's warmth as well.
Fireplace Regulations
Custom fireplaces, while allowing for a rustic addition to an outdoor patio, kitchen or even pool area, are regulated more strictly than fire pits and fire tables if they are wood burning. Because a good deal of smoke is produced, building codes require that they have chimneys be taller than nearby structures.
Aesthetics
One appealing option that fire pits and fire tables have over fireplaces is the ability to have colored stones in the bowl, as well as the option for imitation wood, coals or actual wood. The stones glow warmly in a variety of colors, adding a layer of depth to the flames. Of course, many homeowners who prefer the ease of gas flames still prefer that the fire look natural and authentic.
Versatility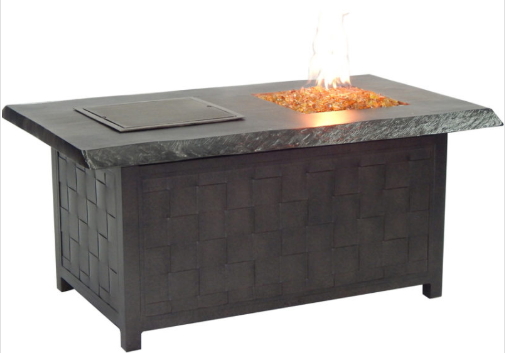 Fire tables will often come with a cover, and have a table top surrounding the fire bowl. This table is convenient for drinks or even meals around the fire, depending on the size. The cover can transform the fire table into a complete table top when no fire is desired.
Burkholder is Main Line's Choice for Fire Tables and Custom Outdoor Fireplaces and Fire Pits
Whether you prefer a stylish and convenient fire table, or to have a sturdy and permanent fire pit or fireplace built into your outdoor living space, Burkholder is the place to get them. We help you determine the right size and style to suit your space, style and budget. For more information about your options in outdoor fireplaces and fire pits, contact us today.
Wood Burning Natural Stone Fireplace with Seating Walls
Gas Natural Stone Firepit
Wood Burning Natural Stone Fireplace with TV, Wood Storage Cabinets and Seating Walls
Wood Burning Natural Stone Firepit with Flagstone Caps
Wood Burning Natural Stone Fireplace with Techo-Bloc Seating Walls
Gas Natural Stone Firepit with Spark Screen
Gas Natural Stone Fireplace with Brick Details under a Pavilion
Gas Natural Stone Firepit with Flagstone Cap
Wood Burning Natural Stone Fireplace with matching Grill
Gas Techo-Bloc Firepit Kit
Wood Burning Natural Stone Double-sided Fireplace with TV under a Pergola
Gas Natural Stone Firepit with Lava Rock