3 Structures That Enhance Your Outdoor Space
Structures that enhance your outdoor space are probably on your mind now that summer is just around the corner and many plan to spend more time in their own backyards this year. These structures improve your outdoor space, adding value and enjoyment throughout the whole year. Whatever your need and desires are, these structures all make great options for your next outdoor project.
1. Outdoor Kitchens
As homeowners seek to improve the value and functionality of their landscapes, outdoor kitchens continue to rise in popularity. Outdoor kitchens are an excellent way to provide additional space for entertainment and a wholly unique dining experience. Many options exist to make these spaces more functional and fun, like grills, refrigerators and pizza ovens. Many opt for built in bars with seating for drinks or meals. In addition to more enjoyment, outdoor kitchens act as a durable, useful, and permanent living space, adding value to your home and standing out to potential buyers.
You can take your outdoor dining experience to the next level with a custom-built outdoor kitchen. Custom outdoor kitchens are tailored to your budget and needs, all while enhancing your property value and entertaining your friends and family.
2. Pavilions & Pergolas
Pavilions and pergolas are excellent structures that enhance your outdoor space. These structures allow you to enjoy the outdoors while providing shade from the bright, hot summer sun, or protection during rainy weather. A pavilion or pergola increases the amount of useable space outdoors, essentially creating an outdoor room. That room can serve a variety of purposes, including a lounge area, dining space, or place for watching sports on big screen TVs for game night.
3. Fireplaces & Fire Pits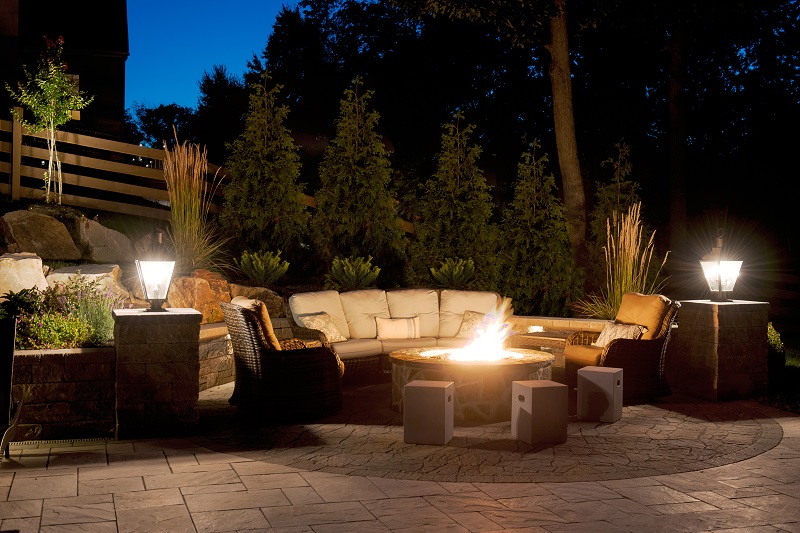 Gathering around fire pits or fireplaces is one of the best ways to enjoy the outdoors at night. The heat from the fire allows you to enjoy your landscape at night in early spring, autumn and even winter (think sweaters and s'mores!). Fireplaces can also be integrated with other structures, such as outdoor kitchens to create atmospheric lounge areas.
Fire tables are movable and have a tabletop surrounding the fire bowl, making drinks or even meals around the fire more convenient. Outdoor fireplaces and fire pits are custom-built, giving you many options to fit your landscape and desires.
Burkholder Designs and Builds Structures That Enhance Your Outdoor Space
Burkholder Brothers has been designing and building high-quality outdoor structures in Main Line communities for over 20 years. Our team of passionate and experienced hardscape and landscape contractors, designers, project builders, and account managers will work with you to design and build custom structures that enhance your outdoor space. For more information, contact us today.