Burkholder Gives Holiday Tips to Main Line Residents
We love the holidays, and we want to offer our community a few holiday tips. The holidays are a special time of the year for so many people, and we want to help Main Line residents get the best use of their homes and outdoor spaces this year. Many of the people in our area like to hold small family gatherings over for the holidays, and our tips will help you make your home and landscape more festive and useable for the holidays.
Entertaining In Your Outdoor Space with These Holiday Tips
Even as the weather gets a little chillier and the nights become darker earlier, you and your family can have fun outside and entertain special guests. Warmth, atmosphere, lighting, and food are elements that make outside activities more enjoyable.
Keeping Warm in the Outdoors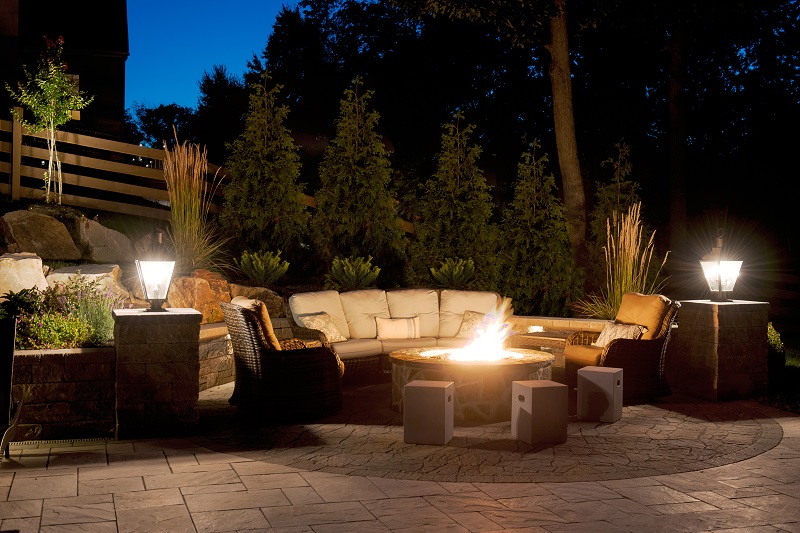 One of our holiday tips is to keep your outdoor space a warm and cozy place for special gatherings. Although the fall and winter bring colder weather, you and your family members can still enjoy the outdoors and beautiful fall colors. Make good use of your outdoor firepit or fireplace, and consider enhancing with a space heater or two if you have a large outdoor space. Space heaters provide enough warm for people to gather around, share stories, and have fun even on chillier winter days. Firepits add the same comforting heat, but also add a unique ambience, enhancing the atmosphere and mood of your space. If you have outdoor furniture, you can arrange the seating such that people can gather around, stay warm, and enjoy each other's company. With outdoor furniture you could also, if the area is covered or you know the weather will be dry, add throw blankets to the chairs so family members can wrap up in them while enjoying clear starry nights outside.
Create a Festive Atmosphere through Lighting
One of the best parts about the holiday season is seeing beautiful, festive lights around the neighborhood or city block. If you are planning on having a small family gathering outdoors, you can make your outdoor space more festive and atmospheric with lighting. Add to your existing outdoor lighting design for the season by stringing holiday lights around your deck or patio. You can also add lanterns for a cozy effect. Because the days get darker much earlier during fall and winter, having a few extra lights outside helps your family enjoy the outdoors longer.
Have a Holiday Dinner Outdoors
Dining outdoors is a truly unique and great experience, so here are a few tips to make the most use of your space so you and your family experience wonderful food outdoors. If you have an outdoor kitchen, think about cooking up a traditional holiday meal during a nice, clear day, so that everyone can enjoy dining and chatting in the sunny air or against the backdrop of a beautiful sunset or dazzling night sky. Many may be unaware, but you can grill a holiday turkey in only a couple of hours. Homeowners with firepits can use the flames for roasting marshmallows for dessert. Add some decorations, such as wreaths, evergreen or leafy centerpieces, or holiday throws or pillows, to an outdoor dining area to make your dinner more festive.
Visit the Burkholder Holiday Market for Unique Gifts
Expand your holiday décor and get the most out of your holiday shopping by visiting the Burkholder Holiday Market. At our annual holiday market, you and your family will find beautiful holiday décor and unique gifts for your friends and family. Join us on the weekends for some family friendly events, such as visits from Santa and his reindeer and roasting marshmallows. For more holiday tips, gifts, décor, and fun events, visit our Holiday Market.