Burkholder Highlights Favorite Thanksgiving Traditions
Thanksgiving is just around the corner, and is one of our favorite times of the year. This holiday is a time where we all get to strengthen our bonds with our friends and family, and enjoy many traditions of the season, such as decorating homes. Plus, as Pennsylvanians, our customers have said that they enjoy embracing some of the more unique aspects of Thanksgiving in our state. Below are a few favorite Thanksgiving traditions of our Main Line community neighbors.
Holiday Shopping
One of many residents' favorite Thanksgiving traditions is holiday shopping. Because Thanksgiving is always on a Thursday, many people have a 4 day weekend and enjoy taking advantage of bargains on Black Friday and Cyber Monday. Going out on Thanksgiving weekend is also fun because all the stores are decorated and people are excited for the holidays. At Burkholder, we love seeing you, our friends and neighbors, at our weekend bonfires, bringing your kids to visit with Santa and finding "that perfect gift" for someone.
Picking Out the Christmas Tree
While enjoying and celebrating Thanksgiving, many families traditionally start searching for the perfect Christmas tree the day after Thanksgiving. Picking out the tree on Thanksgiving weekend allows people to spend time with their family decorating the tree together, having fun while the fresh pine scent fills their homes. And the trees add cheer for the entire month leading up to Christmas. Choosing a locally grown tree is also an excellent way to help out local businesses and support green spaces.
Decorating the House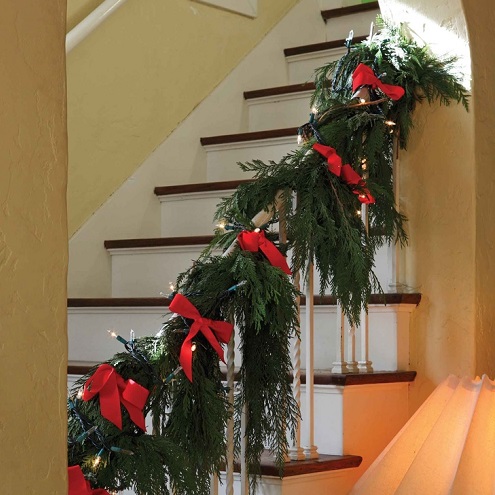 One of the favorite Thanksgiving traditions for many is decorating homes and making them more festive. Thanksgiving decorations can create a welcoming, calming atmosphere in your home. For example, pumpkins, vintage lanterns, garland or a wreath hanging on your front door make your home more inviting to anyone visiting your home. The interior of your home can be just as festive, with wreaths, throw pillows, and other fall and holiday decor making your home a little cozier. Before the feast is ready, candles, pumpkins, and a cornucopia on the table can make for a truly memorable Thanksgiving dinner.
Turkey Trots
Many Thanksgiving revelers have a tradition of getting up early and running a Turkey Trot race before filling up on Thanksgiving dinner goodies. If you are one of those, you probably know that most of these are virtual this year. This year is a great opportunity to get the whole family out for some fun and exercise before dinner and naps ensue!
Volunteer
Thanksgiving is a time that we tend to feel grateful for all that we have, and many people like to share their good fortune with others. That help may be in the form of helping serve food at a local shelter, or in the form of organizing food drives or coat drives for those less fortunate. We have partnered with the Chester County Food Bank in the past to collect food donations for people in need, but many other local organizations appreciate help from our community as well.
Pennsylvania Thanksgiving Traditions
Pennsylvania, specifically York, was home to the first official Thanksgiving in U.S. history, taking place on November 1, 1777. With that rich history comes unique and interesting traditions in Pennsylvania. Lebanon bologna, a common pre-holiday dinner snack for many Pennsylvania residents, began with the Pennsylvania Dutch. Along with the national Macy's Parade, Pennsylvanians have their share of parades and celebrations to look forward to on Thanksgiving, such as the Philadelphia Thanksgiving Day Parade, which is perhaps the oldest parade in the country. Thanksgiving is the perfect time to show gratitude to the people we love, and express our thanks that we live in such a beautiful state with great people.
Visit the Burkholder Holiday Market for Unique Gifts
One of our other favorite thanksgiving traditions is opening our annual holiday shop. To get your holiday shopping in for the year, visit the Burkholder Holiday Market. You will find a variety of unique, fun, and thoughtful gifts for your friends and family. Visit on the weekends and take part in family friendly events, including visits from Santa and his reindeer and roasting marshmallows over a bonfire. Come in, find your fresh cut, locally grown Christmas tree, have a drink, and enjoy a special and memorable holiday shopping experience.