Burkholder Highlights the Benefits of Having a Permanent Outdoor Firepit
One of the coziest additions you can make to your home is a permanent outdoor firepit. Permanent firepits have become more popular landscape features in recent years, due to the enhanced ambiance, improved social atmosphere, year-round versatility, and added value to your home. Burkholder offers some of the benefits of having a permanent outdoor firepit.
Added Ambiance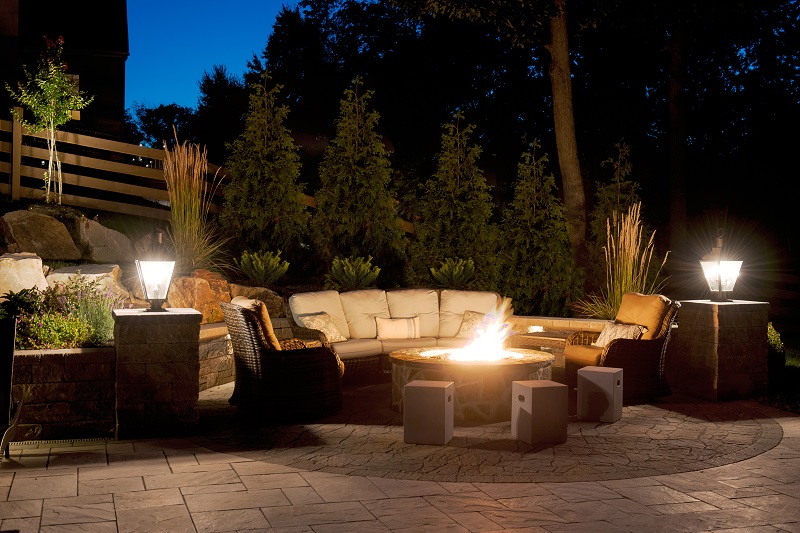 Firepits are excellent for adding ambiance to your outdoor space. The warm, orange glow of the fire gives unique lighting to your backyard landscape. Firepits also help create a relaxing, comfortable environment thanks to the flickering flames and steady heat. The bright light from the fire also lets you, your family, and guests enjoy the night sky and stars in the comfort of your own backyard. Whether you use your backyard for parties or relaxing with family, a firepit will enhance the ambiance and mood.
Backyard Focal Point
Few landscape features make for such a great social gathering spot as an outdoor firepit. The heat and soft, warm glow of the flames make firepits a natural focal point for parties or family get-togethers. You can also incorporate firepits into lounge areas, with couches and sound systems for an even greater social atmosphere. As a result, a firepit provides the perfect spot to relax, enhancing a chatty, exciting party, or a quiet evening with family. The firepit makes an excellent addition to any outdoor living space.
Versatility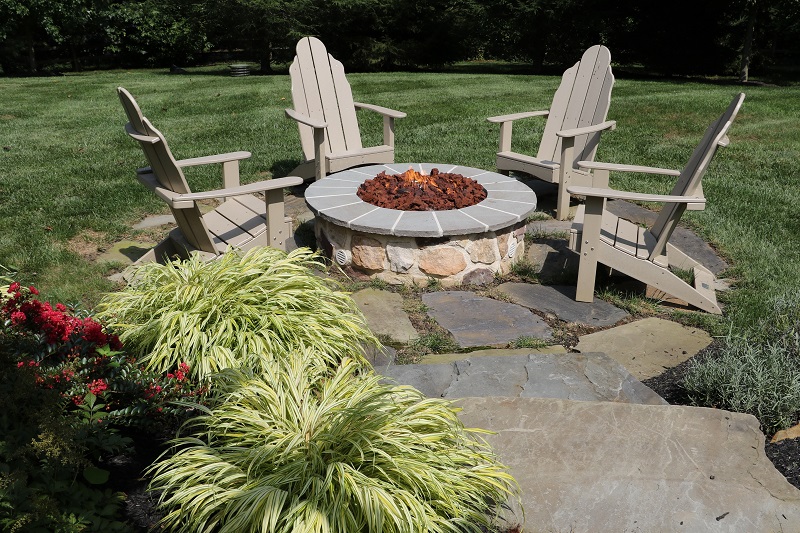 Firepits are also quite versatile landscape features and can be used for various events throughout the year. As previously mentioned, firepits are great for social gatherings. Homeowners can roast marshmallows or cook and gril lif you opt for a wood-burning firepit. While many people use firepits during spring and summer, the heat keeps you and your family warm enough to enjoy the chilly fall and winter nights too. Plus, with all of the different fuel sources, materials, and sizes, any homeowner can have a firepit that complements and enhances the surrounding landscape. The versatility of firepits, both in terms of use and design, means that you can enjoy them whenever and however you wish.
Firepits Add Value to Your home
A more pragmatic reason for having an outdoor firepit in your landscape is that you improve your property value. Well-built and designed firepits give you a great return on investment, some estimates say over 80%. Firepits have also become one of the most popular landscape features in recent years. The improved value means that a house with a firepit, especially a permanent one, will be a more attractive offer to people looking to buy a new home. So if you want to increase your home's value, consider adding a firepit.
Contact Burkholder Brothers for Outdoor Firepits
If you are interested in an outdoor firepit, contact Burkholder Brothers to get one designed just for you! Burkholder's team of experienced, passionate landscape design professionals have served Main Line area residents for decades. Our team will work with you to create and maintain a pristine landscape. We provide a comprehensive set of services, such as outdoor lighting design, outdoor kitchens and pool installation, landscaping, and more. For more information on outdoor fireplaces and fire pits, contact Burkholder Brothers today!