Burkholder Highlights Types of Retaining Walls
Retaining walls are a popular, timeless feature of residential and commercial landscapes. They have a natural appealing look, they organize and enhance other landscape features such as flower beds, they help prevent soil erosion, and they added property value. All of these are significant reasons why home and business owners continue to request them. Each landscape is different, and as a result, the ideal retaining wall for a homeowner differs from that of a business owner. All of the types of retaining walls have different aesthetics, support methods, and are useful for diverse landscapes or situations.
1. Gravity Retaining Wall
One of the most basic retaining walls is the gravity retaining wall due to the simple way the wall holds the soil in place. Essentially, the wall's weight and mass are what resists the pressure from the earth, requiring significant weight, or gravity load, to work. The size and type of gravity retaining wall will require different installation methods.
Short or segmental walls can stand without mortar or a concrete footing.
Other walls may need a small trench dug into the ground to fit.
Bigger walls may need a concrete footing.
Because of their simplicity and the fact that these walls mostly rely on their weight to hold the soil in place, a wide variety of materials can be used to make them: bricks, pavers, and natural stone are the most common materials, and even large boulders can make useful and attractive gravity retaining walls.
2. Cantilevered Retaining Wall
Cantilevered walls are made from a stem and a base slab, usually out of concrete. Think of a wall in the shape of the letter "L," where the vertical part is the stem, while the horizontal piece is the base slab. The slab foundation under the soil and the soil's weight hold the slab down to prevent the wall from tipping and keep the wall in place. Cantilevered retaining walls tend to be much taller and stronger than gravity walls. As a result of their strength and height, cantilevered walls are often used in commercial landscapes more frequently than residential ones.
Counter-fort or buttressed retaining walls are types of cantilevered walls but include counterforts (vertical wings or buttresses) behind the wall to provide additional strength and rigidity.
3. Piled Retaining Wall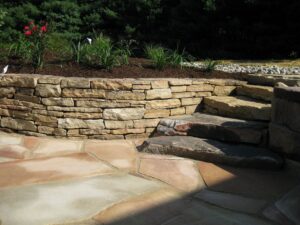 A piled retaining wall uses concrete piles driven deep enough into the soil to counteract the soil's force. Sheet piled walls, a type of piled wall, are made from sheets of steel, wood, or vinyl dug into the ground. Often these walls have a structure, typically using vertical ridges or grooves, to provide additional reinforcement.
Sheet piled walls are useful when space is an issue, and are more effective in softer soils than stony soils. A good rule of thumb is that 1/3 of the sheet piling should be driven into the ground, while 2/3 of the soil should be above the sheet. Larger sheet walls do require additional anchoring to resist the more tremendous pressures and forces from the earth.
4. Anchored Retaining Wall
An anchored retaining wall is a retaining wall with some additional structure to remain anchored (hence the name). So a variety of walls supported by anchors driven into the earth behind them and attached by cables or strips can be considered anchored walls. First, the builders drive the anchors into the ground. The builders will then inject pressurized concrete or use mechanical means to expand the anchors' ends, which provides the anchoring action.
This anchoring method is the most technically complex of retaining walls. Anchored walls are excellent at providing additional support to various other walls, especially structurally thinner walls, when withstanding greater loads is required, or when space is limited.
Contact Burkholder Brothers for Retaining Walls in Your Landscape
Retaining walls are attractive, valuable, and useful elements of a landscape, and Burkholder Brothers can build them for you. Burkholder has been designing and building retaining walls for Main Line area residents, using the finest materials, for years. We offer other services, such as outdoor lighting, pool and spa installation, landscape design and management, irrigation, and more. Our passionate, experienced landscape professionals will work with you to bring your dream landscape to reality. For more information, contact us today.