Exceptional Patio Furniture For Your Exceptional Outdoor Living Space
Just as when you move into a new house, the space is just a beautiful space until you add your own personal items. Your personal flair is what makes a house into a home. The same is true of your outdoor living space. While everyone can appreciate a terrific outdoor kitchen or pool and spa area, those areas are incomplete until you add your own touch. Outdoor patio furniture is one of the easiest ways to do so.
The Benefit of Outdoor Patio Furniture
When you are decorating your outdoor oasis, you want to give the space a particular style, and once you find the right style, you want the look and feel to last. Getting top quality furniture can help ensure that you get to enjoy the space hassle-free for much longer. Another benefit of quality furniture is that you can often get custom products.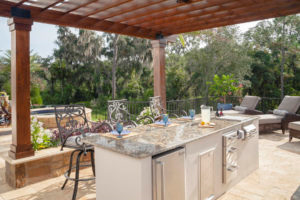 For example, when you order outdoor furniture from Castelle, the pieces are cast only once you put your order in. The aviation-grade aluminum is handcrafted and polished before finishing and you get to choose from nearly 600 fabric options. Burkholder's select outdoor furniture manufacturers were chosen with care to be sure that our promise of excellence extends beyond our services.
Furniture Options
More patio furniture options exist than you probably realize. We need those options for the wide variety of uses we have for our outdoor living spaces.
Many people like to have multiple gathering spaces for entertaining. They might have bar-height chairs at the cooking counter of the outdoor kitchen area, with a separate seating area for fuller or more formal dining.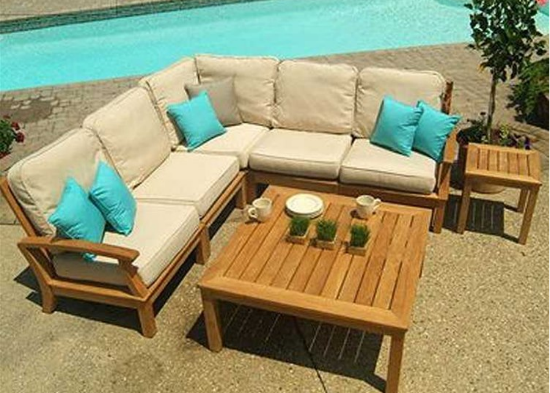 A pool deck, or raised sun deck could have a combination of seating choices: possibly wicker Adirondack chairs for lounging, or patio sofa and chairs around a smaller table for conversation.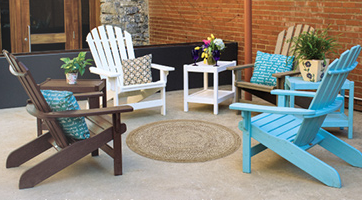 A firepit or fire table offers great ambiance, and homeowners may want bench style seating, or cozy plush outdoor furniture to round out the area. If a fun, upbeat look is desired, the style can be accomplished with bold colored fabrics, or with Breezesta's colorful poly-lumbar furniture.
Whatever your style, spring is a great time to find patio furniture. You can outfit your newly built outdoor space, or choose to upgrade your existing furniture. Burkholder has what you are looking for from manufacturers like:
• Castelle
• Three Birds Casuals
• Patio Renaissance
• Breezesta
• Treasure Garden
• Ratana
Visit Burkholder's Showroom this Spring for Great Selections and Prices on Patio Furniture
Burkholder has some of our top designs on display at our outdoor Showroom and Design Center. Come in and see what is available, or contact us to set up an outdoor living style consultation. We would love to meet you!