2020 is here, and many homeowners will be thinking about their landscaping goals. Burkholder offers four 2020 landscaping design trends to incorporate into home landscapes. Many homeowners are already meeting with hardscape and landscape contractors, and these 2020 trends are versatile and practical enough to be suitable for any landscape.
The combination of functionality with great aesthetics is a major theme of all of these trends. A beautiful, sustainable garden or an elegant lounge area are just two of the many ways to combine style and practicality and will be a huge element of 2020 landscape design.
4 2020 Landscaping Design Trends
If you are still wondering what you can do to improve your landscape, here are some ideas to get you started.
1. Low-Maintenance Lawn Care
While many people love spending time outdoors, most of them likely prefer spending time relaxing or playing outdoors over working. Homeowners are looking for ways to keep their landscape beautiful and make lawn care easier and more convenient. One of the most obvious ways is with a smart sprinkler and irrigation system, but other areas can benefit from lower maintenance materials.
Natural stone for patios, shrubs, trees, and drought-resistant or other low-maintenance plants, can help create a beautiful, unique landscape while needing minimal care. Through this use of natural elements and smart design, you can maintain quality and a low-maintenance lawn much more easily in 2020 than in previous years.
2. Pergolas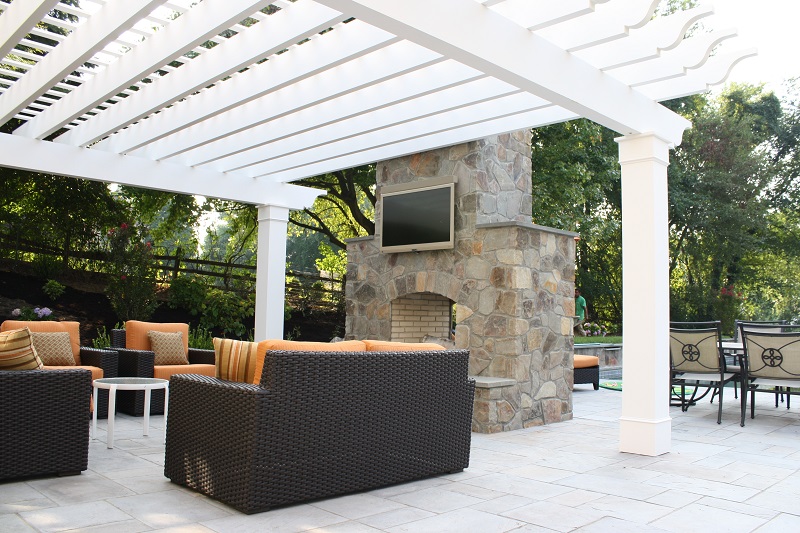 Pergolas have always been a popular choice for those looking to enhance outdoor spaces, and these shaded garden features will remain big in 2020. Expanding the indoors to the outdoors has been a growing trend for some time, and pergolas make enjoying those spaces easier as well as enhance the atmosphere.
Pergolas also offer versatility. You can put an outdoor kitchen underneath, or other quality outdoor furniture to create a relaxing lounge area. Ambient lighting can be installed to help accentuate a certain mood, or pull-down shade screens to help keep the bright sun out of your eyes. Creating a warm, inviting space will continue to be a growing trend in 2020.
3. Ambient and Invisible Lighting
Great lighting for a patio, deck, path, or pool will always be popular. The type and style of lighting people desire in 2020 will be different. Sleek, minimalist lighting will be one of the bigger 2020 landscaping design trends. Techniques such as lighting the important points and junctures of a path and hiding the lights that brighten up the home are parts of a larger trend: invisible lighting.
Invisible lighting involves blending the lighting into the landscape. Long, linear lights beneath landscape structures creates the illusion of floating structures. People are becoming more interested in seeing the light rather than the lighting fixtures, and as a result, invisible lighting will gain traction in 2020.
4. Mixed Materials in Hardscape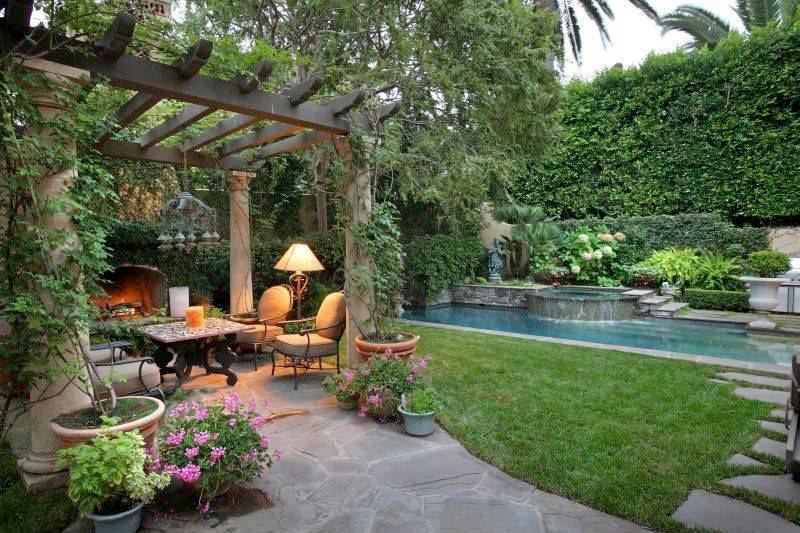 Hardscape describes the man-made features in landscape architecture, such as walkways, pavilions, and walls. Mixing and matching different elements of hardscaping and amenities or technology is a creative way to add beauty to your landscape in 2020. Creating a natural stone path to a sturdy, wood pergola, with perhaps some metal furniture or a grill, can become a favorite sight to behold.
Walls, decks, patios, and pools can all incorporate these contrasting materials as well. Hardscapes surrounded with vibrant, native plants and even soothing water features such as a fountain or a small pond, create a truly unique outdoor living space.
All of these 2020 landscaping design trends tie into a broader theme: creating a comfortable, easy-to-maintain living space that is unique to your home. So when you are making plans with regard to what sort of improvements or additional features to add to your landscape, think of creating a welcoming space that can only be found in your backyard.
Start Planning Your New Landscaping Design Today
Burkholder's team of landscapers and designers have the skills and passion to create your ideal landscape. Our landscape professionals have been serving Main Line communities like Malvern, Villanova, and Bryn Mawr for decades, understanding their needs and providing a wide range of landscaping services. To learn more about 2020 landscaping design trends or our company, contact us today.