Furniture Configuration Tips to Transform Your Outdoor Living Space
As summer approaches, the sunny days and beautiful evenings are often enjoyed in outdoor living spaces. If you wish to enhance your outdoor living space, the process can be as simple as reconfiguring some of your current furniture pieces and adding a few new items to tie the area together. Arranging patio furniture in a different fashion can transform both the feel and function of your outdoor room! Burkholder offers some practical tips that are certain to improve your outdoor living space.
Four Ways to Up Your Outdoor Space Game
Create A Cozy Ambiance
A surefire way to ensure your outdoor space achieves a cozy atmosphere is to use smaller pieces– such as loveseats instead of sofas – or arrange pieces in a circle or semi-circle fashion. Doing so keeps seated members close, comfortable, and engaged around a central item: such as your coffee table or fire pit.
Break It Up
Even if your patio is large, you might want to avoid overwhelming the space with huge, cumbersome pieces of furniture. Instead, try breaking the space up into smaller areas that functionally coincide with your living and entertainment styles. Achieving this look can be as easy as arranging your furniture groupings in different directions. For example, creating a circle of chairs facing away from your outdoor kitchen can break up your eating and entertainment spaces. Make sure to balance out the larger furniture by incorporating smaller pieces, such as ottomans or accent tables, too!
Use Your Vegetation Wisely
Use vegetation to your advantage! Arranging your furniture under your trees creates a patio nook, an intimate and relaxing space. On the other hand, setting up a table in a bright, unshaded area of your yard creates the space for a fresh, alfresco patio dining experience.
If your yard is overwhelmed with vegetation, make your own "staycation" area: add furniture with vivid cushions to match your vibrant plant life. Our furniture comes in a wide array of fun colors. Additionally, adding patio mood lighting is a great way to counteract the shade, and creates an inviting climate for visitors.
Remember to Relax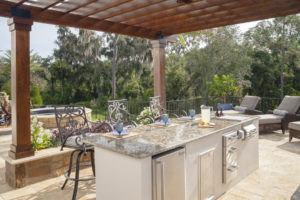 Even if your outdoor living room primarily serves as entertainment area, remember to relax in your space! Adding a chaise or a hammock is a great way to achieve a tranquil feeling, as is arranging your furniture to face a view, like your pool or a forest. If these views are unavailable to you, adding some attractive potted plants will work, too!
An outdoor bar with bar height seating is a comfortable place to unwind and talk with friends on the weekend. This bar has a refrigerator, pergola and surrounding seating as well: everything you need for a casual gathering.
Burkholder Has the Finest Outdoor Furniture to Help Transform Your Outdoor Living Space

This summer, ensure that you can enjoy your time to the fullest. Implementation of any of these tips will certainly enhance your outdoor living space and experience. Burkholder offers fine quality furniture that will last for years and years of memories. Some of our furniture has been known to be passed down to the next generation. Three Birds Casuals' teak furniture, with teak made from government managed plantations, is naturally resistant to moisture, rot, warping, shrinking, splintering, insects, fungus, marine bore, and termites. Castelle aluminum is aviation grade so the pieces never rust. Breezesta furniture, made of recycled materials, is sturdy, easily cleaned and resistant to salt damage. Ratana's woven wicker is more durable than natural wicker products and the company has unique furniture accents like firepits. The styles and technology are so advanced that you could use the furniture as indoor furniture just as easily as outdoor furniture. Contact Burkholder today for a consultation on your outdoor room and see how we can help you transform your outdoor space!