Imagine yourself outside, standing in your backyard, having a refreshing drink in the summer heat. When you gaze at your yard, what are the images in your mind? Do you dream of building a swimming pool with lush, vibrant plants nearby? Or perhaps an outdoor kitchen, complemented by a pizza oven and sound system? Those images and thoughts that came to your head help indicate your landscape style.
Your landscape style is a reflection of your interests, design preferences, and lifestyle needs. A landscape style is a foundation for your dream landscape. Many homeowners will think that their dream landscape is just a dream, but we can make those dreams a reality. The first step is to determine your landscape style.
Why You Need to Discover Your Landscape Style
Sometimes the hardest part about creating a landscape is finding a place to start. But, before you can start you need to figure out exactly what your landscaping style looks like. After all, when you finally get home from a long day, your space should feel perfectly comfortable and tailored to what makes you happy. If you try to start designing or building your dream landscape before solidifying your style, you can find yourself quickly overwhelmed.
Knowing your landscaping style will save you time.
Having too many ideas or choices leaves you feeling paralyzed with no idea where to start. By defining your style, you will know how to prioritize the elements of your landscape. If water makes you happy, that should be the focus of your landscape. If you prefer the hub of activity around cooking and entertaining, then that should be the primary focus of your landscape. By knowing your style before you begin the process, you will know which elements of the landscape are must-haves and which can be optional.
Knowing your landscaping style will save you money.
Knowing your unique landscaping style will help you avoid making investments in your yard just because you like something. You can like a lot of things, but that does not mean they all need to end up in your backyard.
Knowing your landscape style will help you plan your project.
Consider this, would an architect start buying materials before knowing what style the house will  be? The same principle applies to landscape design.Discovering your landscape style will help you actualize your dream landscape. You need to consider:
what elements you want
what the required materials will be
the size and locations of each element
This process is time-consuming and allows for plenty of mistakes if you are unsure of what to purchase. But once you are aware of what style you want, you will find the design process much smoother and more manageable. Working with a professional landscape designer will also be much easier with a clear, concrete idea of what style your landscape should be and what goals you have in mind.
Once you have your new landscape designed and built, you will find that the landscape better reflects and accommodates your lifestyle since you defined your vision and style beforehand. A landscape style should open up new possibilities and expand your horizons.
How a Landscape Professional Can Help Create Your Landscape Style
Actualizing your landscape style can be a challenging endeavor, and hiring a professional will make many aspects simpler for you. Some of the advantages they offer are
Knowledge – Professional landscape designers havethe knowledge and experience to advise you on:
feature options
materials needed
space utilization
geological challenges
county and community regulations
Procurement – Professional designers will be able to give advice about and procure all of the necessary materials. They may also be able to get a better quality and price than homeowners could get on their own.
Coordination – Arranging for and coordinating the schedules all of the contractors and builders who will be working on the project is another challenge a landscape professional has the experience to perform smoothly. Designing, building, and maintaining landscapes require a lot of moving parts, and a landscape professional has the skills and experience to ensure the process is stress-free for homeowners.
Now that you recognize the importance of discovering your landscape style, and all of the challenges that come with bringing that style to life, what styles do you have to choose from?
Get Inspired By the Various Landscape Styles
When you begin to discover your landscape style, inspiration is critical, as with any creative endeavor. You have a plethora of different options with regards to features, materials, styling, layout, and more. Mixing and matching elements or features from various styles is also a great way to create your unique style. Think about proportions, such as how big an outdoor kitchen in your landscape could be while still having room for a pergola or spa.
Backyard Resort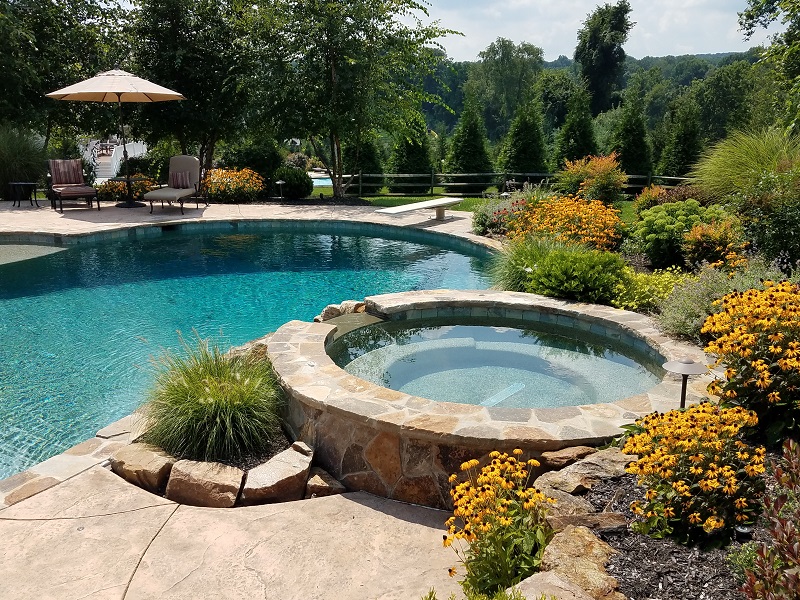 Depending on your interests, you may find that your style leans toward a backyard resort. Often the highlights of this style are pools, spas, lounge chairs, and umbrellas to have fun in the sun without feeling the heat. You will find landscapes with this style are full of activity and fun for the whole family or professionals looking to relax after a hard week of work. Incorporate some of these elements if your style is all about creating the ideal backyard getaway.
Nature
Your style could also be reflected by numerous plants and the atmosphere of your landscape. A lot of plants, a comprehensive sprinkler system to keep the lawn lush, and elegant and well-maintained walkways are just a few features of this style. The significant part about this style is that all of the features can be easily maintained by a professional landscape company. You can maximize curb appeal or create a serene, peaceful atmosphere that is both low-maintenance and beautiful. If you want to have a peaceful but vibrant, easy-to-maintain landscape, you may find yourself leaning towards a nature lover's style.
Outdoor Kitchen
The outdoor kitchen has become a popular landscape choice in recent years. In addition to tried and true grills that are standard with outdoor kitchens, refrigerators, bars, dining areas, and even pizza ovens have all become more popular fixtures. Outdoor kitchens are great for making family dinners more entertaining and fun or for letting you show off your cooking skills to friends. If you consider yourself the chef of the family or the grill master during neighborhood barbecues, your landscape can reflect your lifestyle with a custom outdoor kitchen.
Entertainment Hub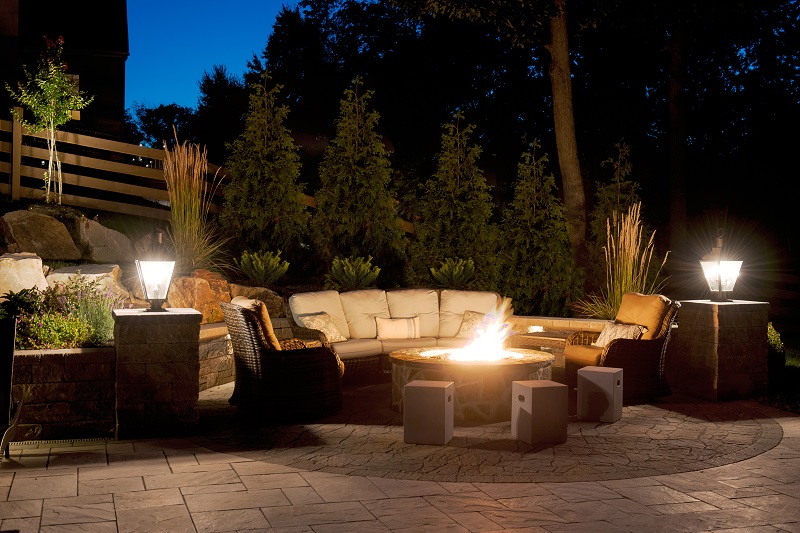 If you find yourself the life of the party, you might be attracted to a landscape style based around an entertainment hub. Lots of lounge seating areas, perhaps with a fire pit or a covered pergola, is one example. You can enhance the party atmosphere with sound systems, televisions, and some outdoor lighting, too. The benefit of incorporating these elements is that you create the perfect outdoor party environment, with enough seating and entertainment options. If you think this could be your landscape style, take our quiz to find out.
Continue On Your Landscape Style Journey
Finding your landscape style is just the beginning of expanding your horizons to create the perfect outdoor environment for you and your family. Designing and building your landscape style presents many challenges, from choosing the right materials to maintaining the space. Your dream landscape can become a real oasis with the help of Burkholder Brothers Landscape. So get inspired, and start the journey by discovering your landscape style.