Learn the History of the Christmas Tree
Main Line residents are in the Christmas spirit! You can see people all over putting up outdoor Christmas lights, hanging together wreaths, and, of course, getting fresh Christmas trees. Here, at the Burkholder Holiday Pop Up Market, we are offering a local option to get your fresh Pennsylvania-grown Christmas tree, while having a special holiday experience. Burkholder offers some interesting history about how Christmas trees became such an integral part of the holiday season.
The History of the Christmas Tree
According to the National Christmas Tree Association, the first record of a tree being decorated at Christmas was in Latvia in 1510. Local merchants decorated a tree with roses in the town's market. After dancing around the tree, they burned it. The custom of using roses as decoration lasted for years.
In the 1600s, people in Germany were using apples. This practice had its history in the Christmas Eve plays called "Miracle Plays" that were used to teach people about the Bible, many of whom were unable to read.
In the next century, the trees were still decorated with apples, but often sweets, nuts and colored paper were used as well. These trees were sometimes just the tops of trees, hung upside down from the ceiling.
Germans are widely credited as bringing this tradition to America during the late 1800s. Americans embraced the tradition and made the tradition bigger. European trees were usually small, often under 4 feet. In America, though some people did have small trees, the preference was for taller trees that would reach toward the ceiling.
The first lit Christmas trees used candles and this practice began with the French in the 1700s. Using candles resulted in fires, such as the one that burned down a Chicago hospital in 1885. By that time, electricity made other options possible. In 1880, Thomas Edison created the first set of electric string lights, and his partner Edward Johnson created the first strand of Christmas tree lights, but the lights were slow to catch on. In 1917 a teenager named Albert Sadacca invented a special type of novelty light that could be hung in the branches of trees and had the idea to sell the lights in his family's store. Later other electric string lights were invented and were sold commercially, making lit trees safer across the country.
Today of course, we enjoy many types of colored lights in our Christmas tree and on our houses, wreaths and more. But the trend began with lighting Christmas trees. Whatever the history, most people today just enjoy the sight of a twinkling decorated tree, and the smell of evergreen when they have a fresh Christmas tree or wreath.
Fun Facts About Christmas Trees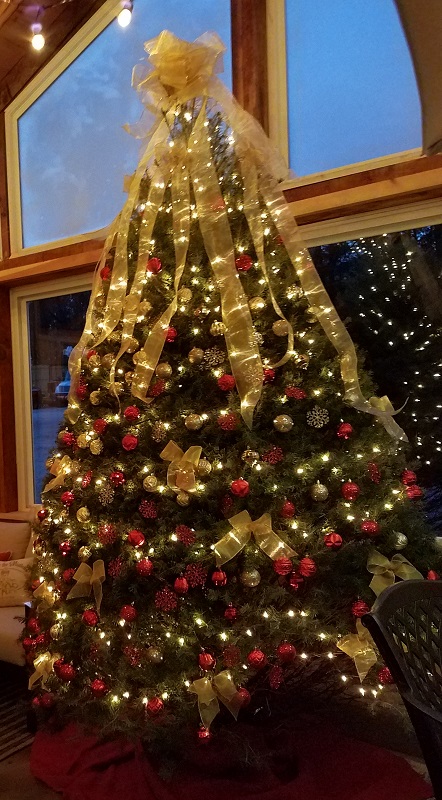 Enjoy these quick facts about Christmas trees from history.com and The National Christmas Tree Association.
Christmas trees are grown in all 50 states including Hawaii and Alaska.
Christmas trees generally take 6-8 years to mature.
98 percent of all Christmas trees are grown on farms.
The first Christmas Tree farm was started in 1901 in New Jersey. W.V. McGalliard planted 25,000 Norway spruce trees on his farm.
President Franklin D. Roosevelt started a Christmas Tree farm on his estate in Hyde Park, New York in the 1930s.
Approximately 25-30 million fresh Christmas trees are sold each year in the United States.
In 1956, President Franklin Pierce brought the Christmas tree tradition to the White House.
The Rockefeller Center Christmas tree tradition began in 1933.
Find Your Fresh Christmas Tree & Holiday Gifts at the Burkholder Holiday Pop Up Market
Are you ready to decorate your home for the holidays? Visit our special Holiday Pop Up Market and browse through our excellent selection of fresh Christmas trees, poinsettias, and handmade wreaths. For more details about special events, visit our holiday page.