Experience Fine Outdoor Patio Furniture and More at Burkholder's Outdoor Furniture Showroom in Malvern
Outdoor patio furniture can really make a difference in the look, comfort and usability of your outdoor space. Unfortunately, if you pick furniture out of a magazine, or if you just pick up an outdoor couch or table from a department store, you may end up with something that fails to meet your needs. Or, you may just have no idea what you are looking for. Burkholder's solution is a grand outdoor furniture showroom in Malvern!

Burkholder Outdoor Living & Design Center Offers Outdoor Patio Furniture and More!
In April 2017, Burkholder Brothers Landscape opened a brand new showroom which features uniquely designed outdoor spaces with fine outdoor patio furniture. Main Line residents have the opportunity to see how the furniture can be used to make different types of space come to life.
Fine Furniture Lines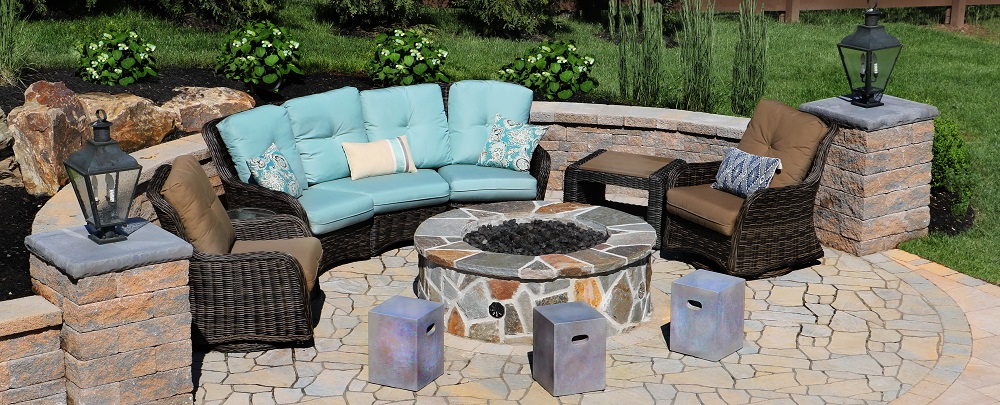 Burkholder's showroom features some of the top quality furniture we offer, from companies such as Ratana, Castelle, Breezesta, Three Birds Casual and Treasure Garden. Making a decision to purchase exceptional furniture is much easier when you can see and feel the difference in the quality.
Outdoor Accessories
If you are going to entice family and friends to gather in your backyard haven, the right environment is key, like a big screen TV for watching your favorite sports teams, or music to accompany swimming and dancing at parties. The outdoor furniture showroom also offers these accessories, which are so vital to creating the right atmosphere for your new outdoor living space. Visitors to the showroom can find anything from pottery, planters, and sculptures to outdoor televisions and sound systems to accompany their new furniture, kitchens or water features.
Burkholder's Outdoor Furniture Showroom in Malvern Offers Information about Landscaping and other Services
Burkholder has been designing, building and maintaining Main Line area landscapes for over 20 years. Our designers work with clients to create plans for transforming plain backyards into staycation getaways! We design and install outdoor kitchens, entertainment areas, pools, spas and much more. When the oasis is complete, we offer maintenance plans that allow you to spend your time enjoying your new space. Come visit our outdoor furniture showroom in Malvern for inspiration, hands on experience with our outdoor patio furniture, or to learn about all that we offer.
Services and Products for the Outdoors Include:
Outdoor Patio Furniture
Outdoor furniture
Grills, pizza ovens and more
Dining sets
Outdoor sound systems
Outdoor televisions
Sculptures
Water features
Umbrellas
Outdoor rugs
Pottery and planters
Landscape Services
Complete design/build services with 3D design modeling
Kitchens and fire features
Outdoor lighting and heating
Full landscape maintenance packages
Plant material by Sauder's Nursery
Burkholder's Outdoor Furniture Showroom is located at 359 Paoli Pike in Malvern, formerly known as Potter's Nursery and located at the intersection of Paoli Pike and Sugartown Roads. For more information, contact us or call (610) 558-2678.