Spring Tree Focus: Katsura Japanese Maple
by Mary Bowe
Nature's first green is gold,
Her hardest hue to hold.
Her early leaf's a flower;
But only so an hour.
from Nothing Gold Can Stay – Robert Frost
Katsura Japanese Maple (Acer palmatum 'Katsura') is a spring favorite of mine for many reasons. It has all the characteristics needed of a "four seasons" plant: outstanding ornamental characteristics in spring, summer, fall and winter!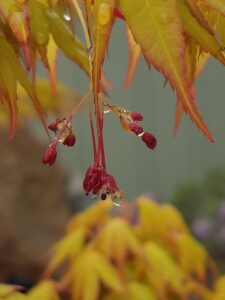 The tree wakes up in spring with a brilliant flush of bright golden leaves with leaf edges gently outlined with a narrow edge of red. Closer inspection of the early spring foliage will reward the viewer with glimpses of small red flowers which take a form making me think of floral jewelry. As summer heat arrives the leaves mature to a bright green and in fall flaunt an outstanding orange red farewell to the growing season. The winter display provides upright branches which have been cured to a rich red by the sun but have a distinct yellow color on their shady, north facing side.
For of all these four-season attributes I place these garden standouts in a location where they can be observed throughout the year from as many vantage points as possible. These vantage points should include indoor window views frequently enjoyed through the winter months.
The tree is typically an upright vase shape, approximately 4-6' H in 10 years, maturing to 10-12' H&W. The size and shape of the tree make it ideal for patio settings or garden spaces where a quality specimen is needed for color interest within a relatively small space.
An excellent plant to pair with Katsura Japanese Maple would be Rhododendron 'PJM,' which provides brilliant purple flowers to contrast the yellow spring leaves of the tree. In fall the burgundy to purple leaf coloration of the Oakleaf Hydrangeas is again a great color contrast with the orange/red tones provided by Katsura Japanese Maple.
Burkholder Offers Year-Round Inspiration with Katsura Japanese Maple and More at Our Outdoor Design Center
Katsura Japanese Maple is a standout worthy of consideration for your garden or patio space! Come visit our Malvern location where one of these trees and many others are planted within our demonstration gardens and patio displays – we would enjoy seeing you there!