What Landscape Design Options Take Advantage of a Sloped Backyard?
Like plenty of other homeowners, you may have a sloped backyard, whether your home rests on a single big hill, or your backyard is covered in smaller slopes. Hills and slopes present opportunities to make your landscape stand out and use the space to your advantage. Tiered flower beds can create unique and visually appealing gardens. Stairs take advantage of slopes and hills to help walking around and in-between your landscape features easier. And a deck can give you level space for lounging and entertaining guests.
Tiered Flower Beds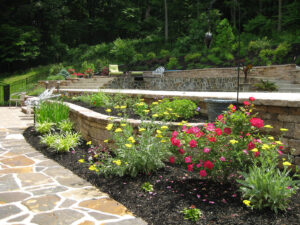 One option that takes advantage of a sloped backyard is a set or series of tiered flower beds. Homeowners want to ensure that any flowers or plants in their landscape are beautiful and arranged well, and hills and slope offer new opportunities to enhance that beauty. Tiered flower beds can help your landscape stand out, thank to improving visual interest and uniqueness. If each bed has a particular theme, such as the flowers' types or size, you can make your landscape even more unique and beautiful.
If you like the idea of tiered or elevated flower beds, you will need retaining walls to keep the soil in place. A retaining wall grants you even more options to make those flower beds beautiful, such as using bricks, pavers, or natural stone to make the flower bed stand out. Plus, retaining walls prevent soil erosion and add to your property value, so add some flowers and stones to your landscape's hills.
Stairs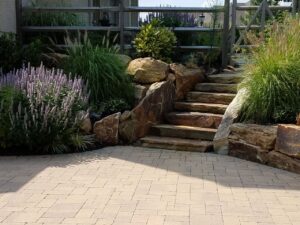 If you have various structures or features in your sloped backyard that you need to connect, such as a patio to a lounge area or a pool, one of the best ways to do so is with stairs. For moderately steep slopes, stairs are an excellent way to help navigate those hills and create a usable pathway in your backyard. Adding a handrail will also make the stairs safer for everyone using them.
Like with the retaining walls, you have various materials to choose from when making stairs, each with their unique look and design style. For example, you can use natural stone steps to give your backyard an organic aesthetic that emphasizes nature. You could also use stone pavers for a cleaner, more contemporary look, and style. Whichever style or materials you want, stairs make all of those little, or big, hills and slopes in your backyard usable.
Decks
One particular feature that can be built on top of any slopes or hills on your property is a deck. Even with a steep slope in your backyard, a deck affords smooth-level space to entertain friends and family. In some cases, building a deck over a steep hill can grant you an excellent, irreplaceable view of your landscape. Depending on the slope's size and angle, you can create space underneath the deck to act as a storage room or even another lounge area. Add a firepit or some furniture, and you will turn that big slope into a beautiful hillside lounge.
Land Grading
Some homeowners might need to have a little more work done to make their backyards usable, especially if the slope is quite steep. In that case, land grading is always an option to make the landscape level, smooth, and more usable. With land grading, earth from one area is taken to another to make the ground level, so that building on the land will be much easier. You always have the option of grading your sloped backyard, depending on what features or structures you intend on building.
Contact Burkholder Brothers for Sloped Backyard Landscape Design
If you have a sloped backyard and want to make the most use of your outdoor space, contact Burkholder Brothers. Burkholder has been designing and building landscapes in the Main Line area for decades. We use high-quality materials and have a long track record of creating the finest residential landscapes for our customers. Our team of passionate and experienced landscape professionals will work with you to create your dream backyard. For more information on our services, contact us today.