Spring is around the corner! When the snow melts and the sun shines its soft, bright light on our Pennsylvania landscapes, we want them to look their best! Those green, manicured lawns and brightly colored planting beds require planning and nurturing and Burkholder offers some tips for turf and lawn care maintenance as well as a checklist for getting your spring and summer landscape off to a great start.
What is turf maintenance?
Turf maintenance encompasses all of the soil preparation, such as aeration, fertilization, seeding and watering that takes place to jumpstart a lush green lawn. Some aspects of turf maintenance include:
Lawn Aeration
Aeration can be performed using two basic methods, spike or core aeration. Core aeration is more effective because the aerator pulls plugs of soil out of the lawn, allowing better penetration of water, fertilizer and seed. Annual aeration is very beneficial to your lawn's overall well-being because compaction is reduced and roots have more space to move into. Grass seeds are also better protected from blowing or washing away when they are sheltered in the holes left by plugs.
Lawn Seeding/Overseeding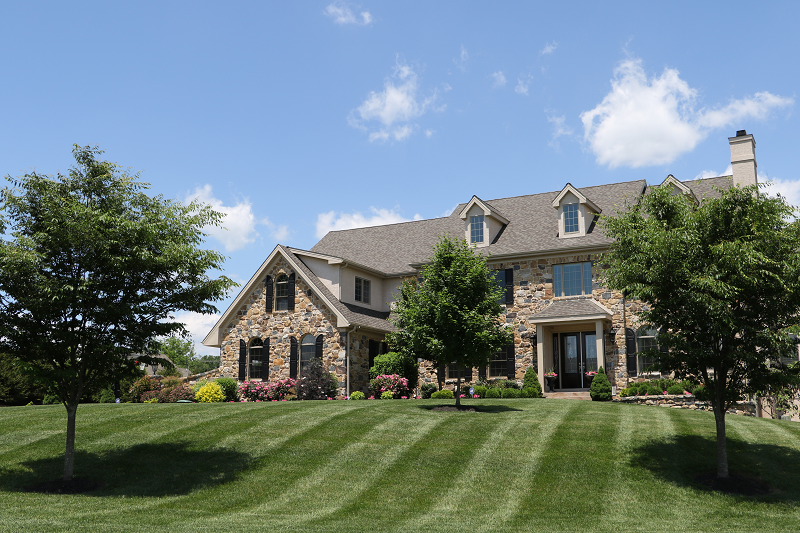 Lawn seeding is the process of seeding bare ground. Overseeding is the process of adding seeds to sparse areas of lawn, or even to healthy lawns to thicken the existing grass. Soil or lawns that have been prepared by aeration will see the best results. Using quality grass seeds and fertilizer also optimizes positive growth.
Lawn and Vegetation Control
The best lawns in the neighborhood are well-maintained lawns. Maintenance means keeping the grass mown, the beds weeded and trimmed, shrubs pruned, and seasonal flowers planted and fertilized. High quality timed-release fertilizers are best because they remain in the soil longer.
Pest Control and Plant Health Care (PHC)
All vegetation and plant life attracts pests. Plant health care includes treating or removing diseased plants as well as watching for and treating any pests that negatively impact your landscape. You will want to be sure that beneficial insects remain and that the products and methods used to care for your landscape are the right ones.
Spring Landscape Checklist
Now that you know a little more about turf maintenance, what do you need to do for your spring landscape to make sure your yard is on the "Best Looking Lawns" list when onlookers compare? Burkholder offers a checklist of general landscape and turf care actions to take.
Yard Maintenance
Make sure your mowing equipment is in good shape to avoid damaging your grass or other plant life.
Weed and remove dead or diseased plants and fallen leaves from your beds.
Edge plant beds and walkways.
Apply weed control and fertilizer where needed for plants, trees and shrubs.
Add hard wood bark mulch to plant beds and around trees and shrubs.
Dispose of grass clippings and shrub trimmings so that grass growth is unimpeded.
Have trees and shrubs pruned and trimmed for safety and aesthetics.
Clean and seal natural stone walkways and patios so they maintain their beauty and functionality.
Irrigation and Lighting
Make sure that your irrigation system heads are intact and set proper watering intervals.
Check that lighting fixtures are clean and that bulbs are all working.
Ensure that all sprinkler and lighting elements are free of overgrown plant life.
Call Burkholder for Turf Maintenance and Seasonal Lawn Maintenance Care
We all want our lawns to be beautiful and well maintained, but many homeowners just lack the time to cultivate the look they want. Professional maintenance is one way to ensure a beautiful landscape. Burkholder provides skilled and comprehensive grounds and turf maintenance for residents and business owners in the Main Line communities of Pennsylvania. For a consultation about the services you need for your lawn care, contact us today and get your lawn summer-ready!