Front yard landscaping is an excellent way to enhance the beauty and value of your home. An appealing front yard adds curb appeal and makes the home more inviting. A welcoming front yard is your opportunity to make an impression on all who see your home. Thankfully, you have plenty of ways to enhance your front yard. To help inspire you, below are a few ideas to transform your front yard.
See Our Portfolios for Inspiration
1. Softscaping
Updating and maintaining your front yard landscape is always a good option. Trees make your front yard more visually appealing. Mature trees can add property value and reduce cooling and heating costs. Colorful, vibrant plants and thoughtful garden design keep your front lawn looking lively and attractive. A manicured lawn also increases a front yard's value and beauty. Adding softscaping features and maintaining them can significantly improve your front yard's natural beauty. Our sister company, Burkholder PHC can help keep your valuable plants thriving with plant health care programs.
2. Outdoor Lighting
Outdoor residential lighting can brighten up your front yard landscaping in several ways. First, you can use lighting on specific plants or trees in your front yard, making your foliage stand out more and adding atmosphere during the night. If your front yard has shrubs or flower beds you want to act as focal points, uplighting can help highlight them.
Landscape lights can show off your front walkway's design and make the walkway safer. The right outdoor lighting design will create a welcoming ambiance and add to your home security. Let us show you some outdoor lighting options if you are looking for a simple, effective way to add beauty and safety to your front yard.
3. Walkways
Another excellent idea for improving your front yard landscaping is to incorporate custom walkways. Walkways provide both value and functionality to your front yard. Paved walkways give yards a cohesive, beautiful appearance, which enhances your enjoyment and the front yard's attractiveness to potential buyers or neighbors. In addition, walkways can connect points of interest in your yard and protect your grass and plant beds. A walkway made of stone, brick, or other materials also improves safety by evening out rough or steep terrain, allowing you and your guests to traverse your property easily.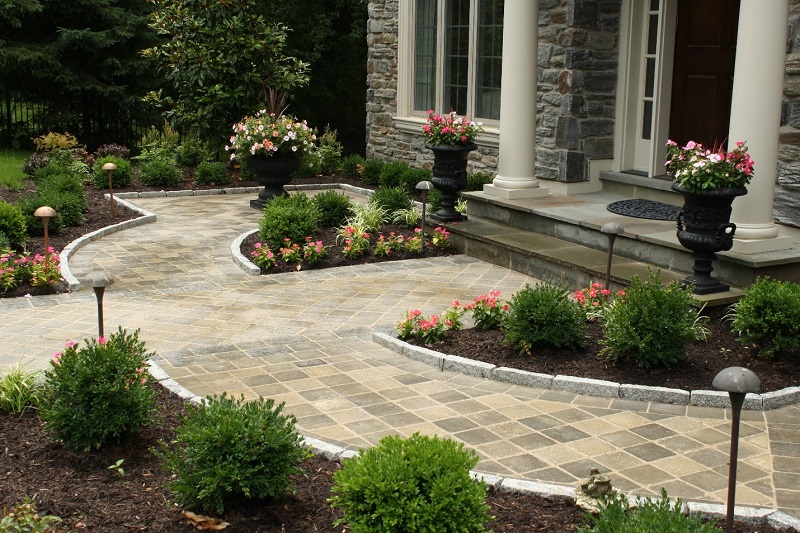 4. Smart Irrigation Systems
One of the best methods for keeping your front yard healthy is irrigation. An automatic irrigation system helps keep your lawn lush and green and your plant beds vibrant, even during scorching hot summers. Smart technologies such as rain sensors can help prevent overwatering, saving you money and water while keeping the lawn beautiful. Wi-Fi sprinkler control apps on your mobile phone provide even greater flexibility. Irrigation is crucial for a well-maintained front yard and a smart irrigation system will maximize curb appeal by keeping your front yard looking superb.
Learn About Sir Sprinkler Irrigation
Contact Burkholder Brothers for Front Yard Landscaping Services
Make your front yard more appealing and beautiful with Burkholder Brothers. Our team of experienced, passionate landscapers has served Main Line area residents for decades. We provide a full range of landscape design services, including outdoor lighting design and installation of outdoor structures. In addition, we work with you to create and maintain a beautiful, immaculate landscape. If you are interested in front yard landscaping, contact Burkholder Brothers today!