Each year our designers help Main Line homeowners upgrade their landscapes with new landscaping projects. Sometimes the upgrade is as simple as adding a new custom stone walkway or a specially designed deck. Other projects are more elaborate, incorporating water features like pools and spas, outdoor kitchens, firepit entertaining areas, and softscaping. Below are a some of the landscape design projects we have completed.
Pool and Patio Retreat
We collaborated with Ted's Pools on this gorgeous backyard. This project included retaining walls, seat walls and steps using Techo-Bloc 6" Mini Creta Architectural caps in beautiful chestnut brown. The patio and walkway were built using Techo-Bloc Blu 60 pavers in Champlain Grey.
The natural stone steps in the spa area are West Mountain Steps and the boulders surrounding the space are a brown granite.
Additionally, our team created this amazing outdoor space by adding plantings that would highlight the area with blooms from Spring throughout Fall, with an emphasis on summer, while the pool is in use.
Backyard Oasis
Check out this beautiful backyard oasis! Our team created this gorgeous new outdoor living space using Blu Grande Techo-Bloc pavers for the patio and walkways. We built a composite wood grilling island and a raised spa with a waterfall spillway. Now the client has a staycation location right in their backyard!
Techo-Bloc Patio
This cozy backyard living space is fall-ready!
Our team completed this Techo-Bloc Blu60 Patio with a gorgeous Valencia Firepit and Techo-Bloc Mini Creta Architectural retaining walls. Plantings and outdoor residential lighting were added as well to make the space complete.
Malvern Backyard Project
A client in Malvern, Pa was outgrowing their existing deck, patio, and outdoor kitchen in the summer of 2022. Our design team came up with a plan to fit their needs. This was a great project to build and the transformation is pretty incredible. Now the family and their friends have amazing outdoor spaces to enjoy year round!
Private Oasis
In summer of 2022, a client wanted to add outdoor living spaces to their landscape.  Our plan included a new deck and patio, pavilion with seating and a television, a pool with a rock waterfall. Now the clients have their own backyard oasis. 
See the Project Video
Outdoor Upgrade
Here are some before pictures of a project we finished in June of 2022. We used a mixture of natural stone and Techo-bloc products to create a level area for an inviting bluestone walkway with ample space for colorful plantings and landscape lighting.
Backyard Pool Project
We completed this particular project in May 2020. We used flagstone pavers as the primary material for the pool deck and surround, which are durable, slip-resistant, and complement the pool's design nicely. A few lights around the pool and the chairs help provide a lovely ambiance at night. The pool area has a significant amount of softscaping, and the plants are coming in and blooming wonderfully. Our crews did a fantastic job, from the design process to the final stages of building, and the client is ecstatic.
A Backyard Transformation
Our new landscaping projects vary in scope and complexity, and this particular project was a full backyard transformation. We had a thorough design consultation and process to fully understand what our clients wanted their dream backyard to become for starters. Next, we designed the pool, the spa with waterfall and natural stone veneer, and the pavilion, which is excellent for outdoor entertaining.
The entertainment area features a stone fireplace, plenty of seating, a built-in television and a natural stone countertop for meals and drinks. Backyard transformations take time to plan and build, but the result is a beautiful, ideal landscape.
Small, Yet Detailed Patio
In contrast to the complete backyard transformation, we have smaller scale projects such as new patios. Our hardscape crew used flagstone pavers, and the warm, earthy tones give the patio an organic, natural appearance.
The different sizes, shapes, and intricate patterns of the pavers also provide the patio with a unique aesthetic, enhancing visual interest and complexity. And the wall nearby has a couple of undercap lights, which makes the outdoor space more usable and inviting during the night. We are proud of the work one of our hardscaping crews did with this project, and this patio is an excellent example of what you can have on your property.
Regrade for New Retaining Wall and Patio
These homeowners wanted to expand their outdoor living space, but the slope was a little too steep. So we cut down the existing grade and installed a Techo Bloc Semma retaining wall and Techo Bloc Blu 60 pavers.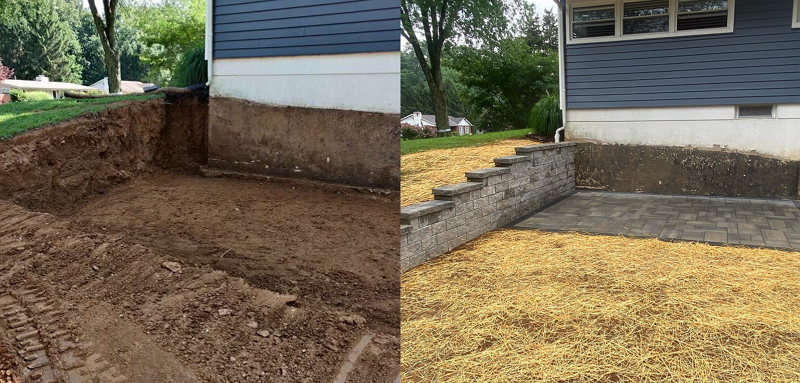 Contact Burkholder Brothers for Your New Landscaping Projects
If you have new landscaping projects or landscaping ideas that you want in your front or back yard, contact Burkholder Brothers. We have designed and built hundreds of landscaping projects in the Main Line area, from softscaping to pools, spas and outdoor kitchens. Our account managers will work with you to fully grasp your vision and make the design process go smoothly. We have a team of highly experienced landscape professionals that can bring your dream landscape to life. For more information on how landscape design company Burkholder Brothers can enhance your landscape, contact us today.